Shopping for stationery has always been a therapeutic activity for me. I would enter a bookstore to "take a peek". It is a heavenly bliss of pens, papers, and stickers. I would come out of the place with a handful of materials and a big smile on my face for snagging new items.
When the pandemic came, many businesses shifted online to fill the void of brick-and-mortar enterprises. COVID-19 has drastically changed the retail landscape with most transactions now occurring online through e-commerce platforms.
"E-commerce adoption in the Philippines grew by 76 percent in 2020 and at a higher 80.2 percent so far this year (2021)," DTI Secretary Ramon Lopez said, from 70 percent in 2019.
With the community quarantines, many saw the convenience of buying electronically. Even hard-to-find items are easily accessible now. Little by little, cute stationery items make their way to my heart and virtual cart with my heart skipping a beat when I click the Add to Cart button.
The local online community is rich with places where you can buy materials like stickers, washi tapes, and other craft necessities. Here I present to you local stores to get your creative fix: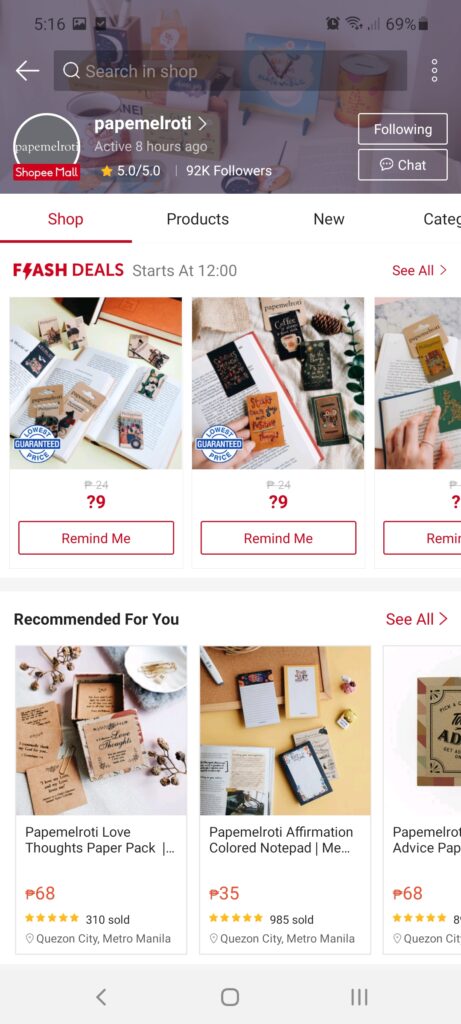 Who would forget the OG of local stationery? It started out as a small gift shop in Tomas Morato and later evolved into a novelty shop. Papemelroti has 18 branches and most of them are based on NCR.
Every Filipino crafter surely has an arsenal of memo pads, journals, and scrapbooks from this store. My trip to the mall won't be complete without going to Papemelroti. I remember sifting through aisle after aisle in high school, filling my basket with goodies I use for personal and school projects. Now, the enterprise shifted a part of its efforts online and is now offering its products on Shopee and Lazada.
If you are looking for die-cutting machines and accessories, you came to the right place. Bee Happy Craft is a craft and party supplies store based in Caloocan. It is an authorized retailer of top brands Cricut, Silhouette, We R Memory Keepers among other household names. Before you could only get these products abroad. But with Bee Happy Craft, you only have to place your order via Lazada or Shopee. Your machine is on your way to your heart, er, house in less than a week. The shop also provides choices for cardstocks, stickers, and stamps.
BerrysTreats (Shopee)
Berrystreats is my go-to place for hard-to-find brands. It offers products from the likes of Bloomsical, Tsukineko, and PaperGeekCo. I've been on the lookout for Tsukineko chalk ink stamp pads for a long time. I'd searched high and low and it is only here I found what I am looking for. BerrysTreat fulfilled my Tsukineko dream.
See also: Philippine Notebook Brands You Should Know About
Most crafters have an uncanny obsession with washi tapes and I am one of them. But my money wouldn't allow me to buy a lot of these expensive rolls.
Washiyard is a perfect solution for satisfying this addiction. It offers premium quality but affordable washi tapes in a wide array of designs. You can choose from vintage aesthetics or floral designs or cottagecore ones. Despite the price tag, it doesn't feel cheap and could go into a neck-to-neck battle with the branded tapes in the market. A word of warning though, you would want to buy everything.
Not all designs are found in a single location. That is why I make sure to look around for other possibilities. Namimono is another satisfying choice for washi tapes at a bargain. It provides rolls in vintage themes, colorful kawaii ensembles, and unique patterns and prints. This is where I bought most of my glittered and foiled tapes.
Stationerine Studio (Shopee)
You know this is a washi tape addict's list when she puts in a third store dedicated to the product. This is another source of tapes that I don't commonly see anywhere else. I have floral prints and Christmas-themed rolls in my cart right now. Oops!
Decoartmnl.com (website)
Decoartmnl is a heavenly abode for different types of scrapbooking materials. You can check on hard-to-find washi tape designs, floral paper packs, punchers, and twines. That reminded me to check out the ones in my cart now.
CraftyKelmeti (Shopee)
Ever since I bought a paper book in SM Stationery a few years back, I'd been browsing through stores for other possibilities. But it was a fruitless hunt until I found Crafty Kelmeti. Now the real challenge begins. With many options of Paper Designer packs available, I can't seem to choose one book since I want everything here. My wallet would protest in return.
Grecemarket (Shopee)
A stationery list is never complete without Grecemarket. The online shop offers a wide collection of notebooks and scrapbooking materials for your creative needs. From binders to stickers to wax seals, you will surely find something you want (Clue: It's everything.)
XS Journal (Shopee)
In love with China-based stores Winzige and Mohamm but don't have the patience for the long shipping time? XS Journal could be the perfect solution for that. The shop has a wide variety of cute stationery items you would usually find in Chinese online markets minus the 2-week wait. I ordered a few times and my order got shipped out and delivered after a few days.
Claymates is a Lazada-based craft supplies business. It offers tools and machines like punchers, paper trimmers, and scoring boards. If branded names are beyond your budget, you could find reasonably-priced items at Claymates. A Martha Stewart bone folder costs P370 but I snagged P69 a pair of unbranded ones in Claymates.
Loveit1.ph (Shopee)
Crafters are also infatuated with silicon stamps. With the endless design layouts a set can offer, you surely want a set or two (or a lot for yourself). I've been clamoring for these from BGM but I can't make myself shell out P500 for a single set. And I went on an adventure looking for other alternatives. I came upon Loveit1.ph. It is a stamp collector's dream come true! Rows upon rows of choices will give you the liberty to decide on different designs to buy. Your budget is the limit here.
Loveit1.ph also offers a large array of die cuts that go well with your die-cutting machine. Another affordable alternative to the expensive ones sold in the market.
DIY Boitique (Shopee)
Another wonderful choice to purchase silicon stamps. As mentioned, I always have a few options when I buy. This is where I go next to quench my stamp thirst.
I can't imagine that such a world would exist. Have you ever considered that your favorite craft materials would be available at a click without shedding sweat and tears to acquire them? Never did I. But will I remain to order my stationery online even after the pandemic is over? Nothing ever beats the in-store experience but I cannot deny the benefits of purchasing online.
Also according to a poll released by Visa in July 2020, 73% of Filipino consumers are likely to sustain or increase their pandemic level of online shopping once restrictions are eased. However, 37% of the same consumers reported a preference for the experience of shopping online versus in-store. (source)
With this, e-commerce platforms are here to stay and with the uncertainty of the current situation, it is better to take extra precautions. The exhilarating bliss of stationery parcels coming in my door would do for now.